Manchester City Signed Mateo Kovacic: Mateo Kovacic signed a contract with Manchester City football club. He has come from Chelsea FC. Kovacic played five years at Chelsea. The Chelsea football club won the Champions League and Europa League with him. He played 221 matches for Chelsea FC.
Manchester City Signed Mateo Kovacic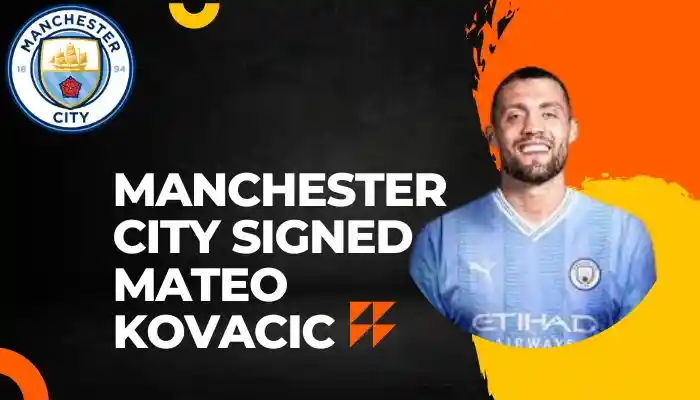 Mateo Kovacic signs a four-year contract with Manchester City.
The signing amount for the transfer is reported to be £25 million ($32 million). And another £5 million add-ons.
Ruben Neves Joins Al-Hilal In Record-Breaking £47 Million Best Deal
Lionel Messi To Make Inter Miami Debut On This Date, Confirm MLS Franchise, Best Player Messi
Why Is Saudi Arabia Investing So Heavily in Football Despite missing Messi? Best Players Signing 2023
Replacement for Ilkay Gundogan
By joining Kovacic at Manchester City fills the void left by the departure of captain Ilkay Gundogan. Gundogan joined Barcelona on a free transfer after seven years at Manchester City.
Kovacic's Excited and feel Confidence
Kovacic expresses his enthusiasm about joining Manchester City, considering them the best team in the world under Pep Guardiola. He acknowledges City's impressive trophy record and its reputation for playing exceptional football.
"This is a brilliant move for me and I cannot wait to get started with City," "Anyone who has watched this team under Pep knows how good they are. For me, they are the best in the world."

said Kovacic
Kovacic's Achievements
He has won 3 times Champions League with Real Madrid and once with Chelsea.
Conclusion
The Manchester City director of Football, Txiki Begiristain, praised Kovacic's versatility. He is capable of playing as a 6 or an 8th' in midfield. He said Kovacic is a player with tactical and technical qualities, fitting City's preferred style of play. The decision to bring Kovacic to Manchester City was straightforward. Because of his experience at top-level clubs and his understanding of the Premier League.
Author Profile

I am a computer science trainer, motivator, blogger, and sports enthusiast. Apart from academic activities, I'm a very passionate reader and writer on various subjects like technology, Sports, and finance.