Rohan Bopanna: In a sensational turn of events at the 2023 US Open, Rohan Bopanna, the Indian tennis player, and his Aussie partner, Matthew Ebden, have etched their names into tennis history. In addition to securing a place in the US Open 2023 men's doubles championship final, they also worked some time-defying magic along the way.
Making History: Oldest Grand Slam Finalist
Rohan Bopanna, at the ripe age of 43, has waltzed his way into the record books. He now stands as the oldest player to grace a Grand Slam final in the Open era, toppling Canada's Daniel Nestor by a mere two-month margin. Nestor, with all due respect, had his moment, but it's clear that age is just a number for the spirited Bopanna.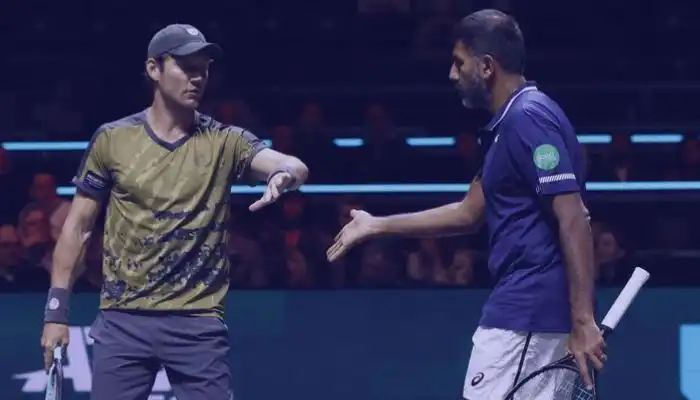 Straight-Set Triumph Over the French Flair: The dynamic duo, seeded sixth in the tournament, left the tennis world awestruck with their performance. They competed against the tough French team of Pierre-Hugues Herbert and Nicolas Mahut in an exciting semifinal match. They won 7-6 (7-3), 6-2 reaching the final.
Read also: Carlos Alcaraz Dominates US Open 2023: A Potential Dream Final Awaits!
Déjà Vu: Bopanna's Second Grand Slam Final: For Bopanna, this isn't his first rodeo in a Grand Slam men's doubles final. Back in 2010, at the very same US Open, he teamed up with the talented Aisam-ul-Haq Qureshi from Pakistan to make his maiden appearance in a Major final. Fast forward to 2023, and history has repeated itself, albeit with a different partner and an age-defying twist.
Read also: US Open 2023: Djokovic Dances Into The Quarters!
Bopanna's Mixed Doubles Adventure EndsIn the world of doubles, ups and downs are par for the course. Unfortunately, Bopanna's mixed doubles journey at the 2023 US Open came to a close with a second-round defeat alongside his Indonesian partner, Aldila Sutjiadi. But in the realm of men's doubles, where Bopanna has rewritten the history books, the excitement continues unabated.
Conclusion: Rohan Bopanna
Rohan Bopanna and Matthew Ebden's extraordinary journey at the US Open 2023 is a testament to the enduring spirit of sportsmanship. One thing's for sure: In the world of tennis, age is no match for determination and skill.
Author Profile

I am a computer science trainer, motivator, blogger, and sports enthusiast. Apart from academic activities, I'm a very passionate reader and writer on various subjects like technology, Sports, and finance.