Goalkeeper Gurpreet Singh Sandhu: India clinches SAFF Championship against Kuwait in an intense match. Goalkeeper Gurpreet Singh Sandhu becomes the savior for the second successive game, showcasing exceptional skills during penalty shootouts. Indian football team's remarkable performance over the past few weeks was highlighted by their offensive play, midfield control, and solid defense.
Gurpreet Singh Sandhu's Heroic Performance
Gurpreet Singh Sandhu's vital saves in penalty shootouts secured the championship for India.
Sandhu correctly guesses the Kuwait captain's spot kick, making a crucial save.
Indian players acknowledge Sandhu's efforts, celebrating his contribution to the team's victory.
India's Outstanding Performance
Throughout the tournament, India conceded only two goals and scored 13.
The team's exceptional results reflect their improved gameplay and performance beyond expectations.
India dominated matches, demonstrating offensive prowess, midfield control, and disciplined defense.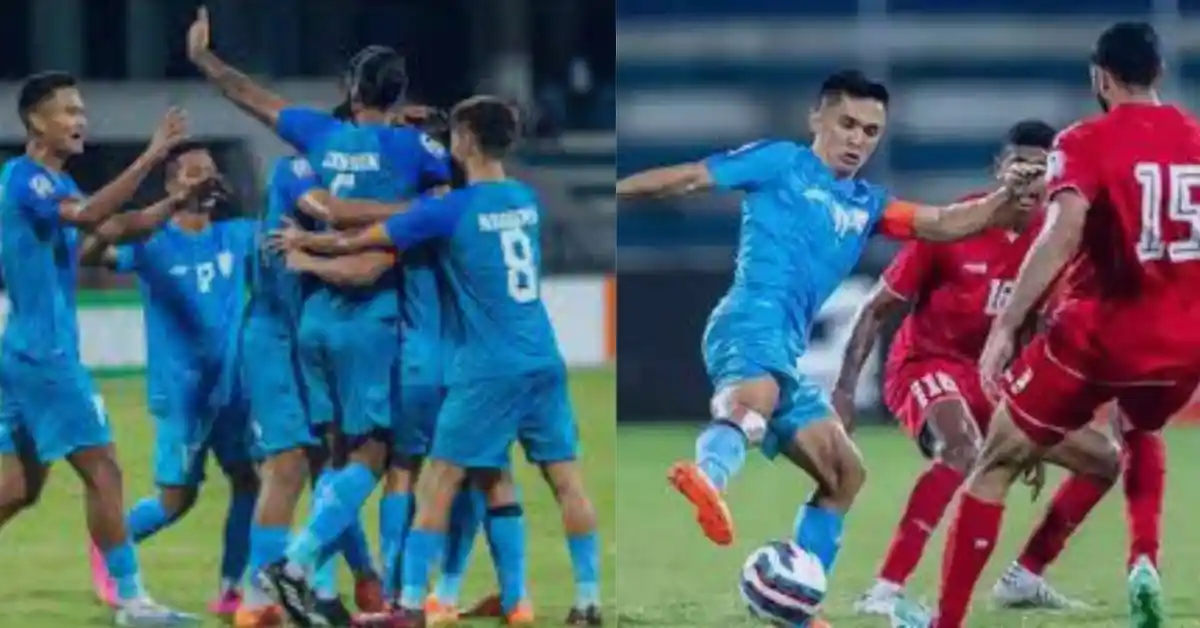 Read also: Emiliano Martinez Biography Wiki, Net Worth, Parents, Career, Profession, Earning, Relationship, Golden Glove Award Best Goalkeeper 2022
Kuwait's Strategy and Indian Response
Kuwait aimed to disrupt India's gameplay by adopting aggressive tactics.
A higher defensive line and congested midfield limited India's technical abilities.
Kuwait's wider players exploited Indian flanks, resulting in the opening goal against India.
India's Swift Response
Lallianzuala Chhangte's strike nearly capitalized on the Kuwaiti goalkeeper's mistake.
India showcased a well-worked move, leading to a beautiful goal, leveling the score.
The team's response demonstrated their resilience and determination.
Read also: Sunil Chhetri Biography[footballer]: Age, Height, [Net worth], Salary, Stats
A Tight Contest
Both teams fought fiercely, attempting to impose their style of play.
Kuwait resorted to time-wasting tactics, intentional fouls, and feigning injuries.
Multiple yellow cards were shown, with the game on the edge of escalating into a red-card scenario.
Excitement in Extra Time
India's goalkeeper Gurpreet made a crucial save, denying Kuwait a late winner.
Thirty minutes of extra time ended without either team capitalizing on scoring opportunities.
The game ultimately proceeded to a penalty shootout.
Read also: Erling Haaland Biography, Age, Height, Net Worth, Salary, Stats, Parents, Siblings, Girlfriend, House, Cars & Current Teams
Penalty Shootout Drama
India's Sunil Chhetri led the team by scoring from the right side of the goal.
Both teams showcased accuracy, with Udanta Singh missing a penalty for India.
Substitute players Subhashish Bose and Mahesh Singh Naorem contributed crucial goals.
Kuwait's captain, Khaled Hajiah, had his penalty saved by Gurpreet Singh Sandhu, securing India's victory.
Read also: Kylian Mbappe Biography: Wiki Biography, Age 25, Wight, Girlfriend, Family, Net Worth & Affair, Best Player
Conclusion
Gurpreet Singh Sandhu's exceptional performance in the penalty shootout was instrumental in India's SAFF Championship victory. India's improved gameplay and remarkable results throughout the tournament exceeded expectations. The team showcased offensive skills, controlled the midfield, and defended effectively. This victory highlights India's progression in football and its potential for future success.
Author Profile

I am a computer science trainer, motivator, blogger, and sports enthusiast. Apart from academic activities, I'm a very passionate reader and writer on various subjects like technology, Sports, and finance.