In a fantastic display of football prowess, East Bengal triumphed over NorthEast United FC (NEUFC) in a nail-biting Durand Cup semi-final clash. East Bengal made a good comeback from a 0-2 deficit to level the score at 2-2. They ultimately secured their final spot after a gripping penalty shootout that ended 5-3 in their favor. This victory marked East Bengal's first appearance in the Durand Cup final since 2004, and it was none other than Nandhakumar Sekar who emerged as the hero with his stoppage-time header.
East Bengal's Dramatic Turnaround: Sekar's Heroics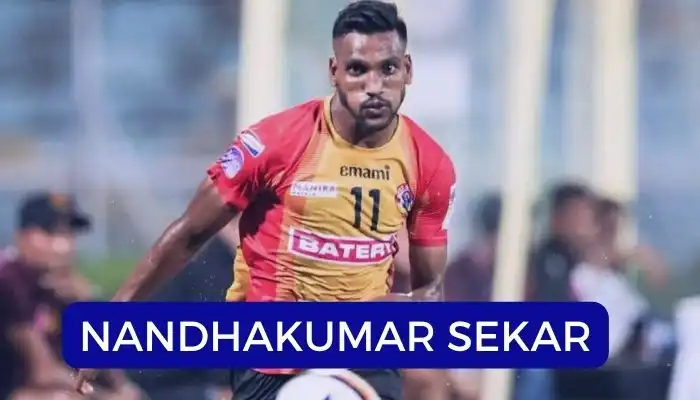 The high-octane encounter saw East Bengal facing a 0-2 deficit as the clock ticked down. Just when all seemed lost, Nandhakumar Sekar's dramatic header in the 90+7th minute ignited a breathtaking turnaround, equalizing the score and paving the way for a dramatic penalty shootout.
East Bengal Defeat NEUFC on Penalties
As the match progressed to a penalty shootout, East Bengal's red-and-gold warriors kept their nerve, converting their chances with finesse. Cleiton Silva, Saul Crespo, Borja Herrera, and Naorem Mahesh showcased their penalty prowess, securing a 5-3 victory in the shootout. The Brazilian duo of Ibson De Melo and Gani Ahmmed Nigam, along with Pragyan Gogoi, fought valiantly for NEUFC, but it was East Bengal's third attempt that proved to be the decisive moment.
Read also: Sunil Chhetri Biography[footballer]: Age, Height, [Net worth], Salary, Stats, Parents, Siblings, Girlfriend, House, Cars & Current Teams
FAQs
How did East Bengal secure their spot in the Durand Cup final after 19 years?
East Bengal made a stunning comeback from a 0-2 deficit to level the score at 2-2 against NEUFC, with Nandhakumar Sekar's stoppage-time header being the turning point. The red-and-gold brigade then triumphed in a tense penalty shootout, clinching a 5-3 victory and securing their place in the final after a 19-year gap.
Who were the standout performers for East Bengal in the match?
Nandhakumar Sekar emerged as the hero of the match with his crucial stoppage-time header that leveled the score. Cleiton Silva, Saul Crespo, Borja Herrera, and Naorem Mahesh put their penalty-taking skills, sealing the victory in the shootout.
How did NEUFC manage to dominate the proceedings initially?
NEUFC took the lead with a 2-0 advantage, with Konsam Phalguni Singh and Miguel Zabaco scoring pivotal goals. Despite East Bengal's efforts and possession advantage, NEUFC managed to stifle clear-cut goal-scoring opportunities for their opponents.
What was the significance of Sekar's stoppage-time header?
Sekar's header in the 90+7th minute not only leveled the score for East Bengal but also ignited a remarkable turnaround.
What's next for East Bengal after reaching the Durand Cup final?
East Bengal awaits the winners of the Mohun Bagan vs. FC Goa match, scheduled for the second Durand Cup semi-final.
Conclusion
In the Durand Cup semifinal match between East Bengal and NorthEast United Football Club East Bengal won. East Bengal staged an incredible comeback and qualified for the final for the first time in nearly 20 years.
Author Profile

I am a computer science trainer, motivator, blogger, and sports enthusiast. Apart from academic activities, I'm a very passionate reader and writer on various subjects like technology, Sports, and finance.