Australian Cricket World Cup 2023: The anticipation is building as Cricket Australia unveils the 18-player squad for the much-awaited 2023 ODI World Cup. In a mix of surprises, unexpected inclusions, and notable absences, the squad is gearing up to compete on the grand stage in India this October-November. Let's take a look at all the aspects of the Australian squad.
Marnus Labuschagne's Omission and Surprising Replacements: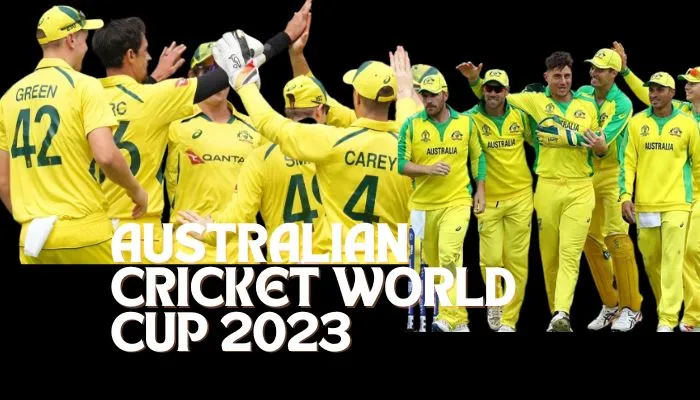 Marnus Labuschagne, a familiar face in Australia's cricket scene, finds himself omitted from the 18-player squad.
Uncapped leg-spinner Tanveer Sangha enters the mix, despite a year-long hiatus due to a back stress fracture. His surprise inclusion sparks intrigue.
Allrounder Aaron Hardie's dual selection for both the T20 and 50-over squads adds an extra layer of versatility to the team.
Sangha's Astonishing Comeback: Australian Cricket World Cup 2023
21-year-old Tanveer Sangha's inclusion raises eyebrows, as he bounces back from a back stress fracture that kept him out of action throughout the previous season.
Sangha has a chance to leave his impact on the world stage despite having little prior top-level experience due to his talent and potential.
Hardie's Dual Role and Fierce Competition:
Aaron Hardie's double selection for the T20 and ODI squads underscores his adaptability and promises exciting contributions in both formats.
In the 50-over department, Hardie faces competition from seasoned players like Mitchell Marsh, Cameron Green, Marcus Stoinis, and Sean Abbott.
Maxwell's Absence and Future Involvement:
Glenn Maxwell's absence from the ODI leg of the South Africa tour raises questions about his readiness for the World Cup.
Maxwell will be joining the team in India as they prepare for matches in Mohali, Rajkot, and Indore.
Injury Setbacks and Determined Returns:
Pat Cummins' fractured wrist sidelines him for six weeks, casting a shadow on his immediate participation. However, the Australian captain is expected to make a triumphant comeback.
Mitchell Starc, recovering from a shoulder injury, receives the green light for the South Africa ODIs, promising his signature fiery pace.
Leadership Dynamics and Vice-Captaincy:
In light of injury concerns, Cricket Australia refrains from naming a vice-captain for the ODI squad.
Josh Hazlewood's brief stint as team leader against England and Steve Smith's captaincy against India earlier in the year hint at potential leadership contenders.
Conclusion
Australian Cricket World Cup 2023: As the Cricket World Cup 2023 draws near, Australia's 18-player squad emerges as a blend of surprising inclusions, notable omissions, and determined comebacks. The absence of Labuschagne, the rise of Sangha, and Hardie's dual role set the stage for a compelling tournament in India. With injury setbacks and leadership dynamics adding further intrigue, cricket enthusiasts around the world eagerly await the team's performance on the global stage.
Author Profile

I am a computer science trainer, motivator, blogger, and sports enthusiast. Apart from academic activities, I'm a very passionate reader and writer on various subjects like technology, Sports, and finance.